Peter Cullen is currently the author of the Career Doctor articles appearing in the Institute of Managers and Leaders publication named Leadership Matters. The columns on this page have appeared in Leadership Matters. Peter also wrote a weekly column on Workplace Behaviour for the Courier Mail in Queensland. The ebook containing the Courier Mail articles is a free download.
Coaching and Mentoring
Why is coaching and mentoring so important?
One of the greatest privileges and sources of satisfaction for a manager is to know how and when to be a coach or mentor. A privilege because someone is demonstrating their trust in you and the satisfaction comes from witnessing someone achieve their desired outcome. It can have a profound impact on the person, the manager and the organisation.
Coaching and mentoring are often thought to be similar with a different name. They are in fact, very different.
Coaching is typically provided by an immediate manager to help people to develop competencies, new skills, self-awareness, performance, taking on new responsibilities and other areas of professional development. It may be formal as a planned discussion or informal as a brief chat. Importantly, it is 100% coachee focused, open and honest with the coachee being stimulated to think of potential alternatives, determine a solution, confirm a goal and take ownership, responsibility and accountability for the outcome.
A very popular and easy to use model for coaching is named GROW. Goal, Reality, Options then Wrap up. Goal is the agreement on the specific objective of the conversation. Reality is general discussion on what was or is actually happening now. Options is creatively thinking about potential solutions. Wrap up is confirming the most appropriate solution with planned follow ups and timing of completion stages. Whilst GROW appears linear, you may find the need to move backwards and forwards between the steps as more information is provided.
It is the coach's role to spend around 80% of their time listening and the 20% is for asking open, probing and expansive questions to stimulate the coachee to develop and confirm their next steps.
Coaching can be formal or informal. An informal example: You have a direct report who often comes to you with a problem and you happily provide a solution as you are short of time and may also feel satisfied you have been of assistance. Unfortunately, you are teaching this person to come to you for a solution instead of thinking for themselves. This is an ideal situation for the quick and effective use of GROW. A formal example is using GROW during a performance discussion, professional development or considering potential career aspirations.
Mentoring can be sourced internally or externally with many companies providing a mentoring program to further develop their people. Both sources can be beneficial and may depend on your personal preference and what you are trying to achieve. Mentoring is future focused and may be monthly for 12 months or more. It is important to have a safe, trusting and confidential environment knowing you can speak openly about your concerns and desires. Internally, it is typically someone you do not report to or know and is several positions more senior, has broad experience and knowledge and your best interests at heart. External mentors may be located in other organisations and sourced through your colleagues, networks and business associations.
Good mentors ensure the relationship is goal orientated and focused on you. They will happily share wisdom gained from their personal and professional experiences as and when appropriate, guide you to building capability in areas to match your goals, invite to you reshape your thinking, consider the bigger picture and is committed to helping you.
Coaching and mentoring are very important and valuable skills that add a great deal of depth to your role as manager to build individual and team capability whilst developing an open and honest environment with a foundation of trust. Acquire and use these skills to the benefit of the coachee, organisation and yourself and become a more valuable asset to the business.
Recent articles
Tags
FREE eBOOK OFFER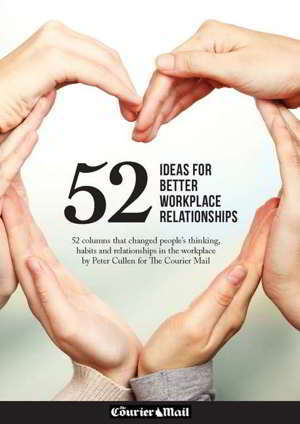 REGISTER your details to receive a copy of my eBook, "52 Ideas for Better Workplace Relationships"