Peter Cullen is currently the author of the Career Doctor articles appearing in the Institute of Managers and Leaders publication named Leadership Matters. The columns on this page have appeared in Leadership Matters. Peter also wrote a weekly column on Workplace Behaviour for the Courier Mail in Queensland. The ebook containing the Courier Mail articles is a free download.
5 Practical Ways A New Leader Can Make A Positive Impact
Good leaders capture your attention, harness your motivation and lead you in a particular direction. They are great communicators, honest and can clearly define and share their vision. But not everyone is born with such attributes. They are skills which must be developed. As a new manager who wants to create an impact, here are five practical ways to have a positive effect on your team. When you actively and purposely engage in these activities, people will perceive you as a leader worthy of their trust.
I have a new role as a manager and want to make an impact as a leader. How can I go about achieving this?
Establish an atmosphere of openness and honesty in all you do to promote trust. If you're open and honest, it encourages others to be the same. Being open improves communication and understanding, and promotes a more positive, trusting environment. In a sense, you're a role model for your team. The behaviours you walk past are the behaviours you accept, both positive and negative.
Get to know your team as individuals and find out exactly what their roles are within the team. Schedule weekly or fortnightly one-on-ones with each person in your team. These meetings are a wonderful opportunity for getting essential feedback from team members, and they're also a space where you can give feedback to them. It can be as simple as talking about what has worked well, what needs to be improved and how. As well as promoting that feeling of openness, such catch-ups are also a constructive way to learn about and improve your leadership style.
Outline the organisation's vision and values to your team (keep it clear and concise), and let them know what is expected of you, the team and individual team members. Then work with your team to plan how this will be achieved. People are usually more committed when they know and understand why they need to do things. They are more likely to take ownership of tasks and be more accountable. When clearly articulated, an organisation's vision provides the essential ingredients for direction and purpose.
Listening is the best way to gauge the temperature of your team. You learn so much more by asking good questions and then listening with 100 per cent focus on the speaker. This is being truly engaged and those you communicate with will respect you for it.
Advocate your team to others. Your team will be very happy to hear you talking positively about them to others. It will give them a sense of pride and reinforce their purpose and commitment. When people hear and know that a team is cohesive and happily working together, they will want to be a part of that team.
Peter Cullen is an AIM facilitator who teaches AIM's "Manage People, Performance and Business Effectively" courses. Each three-day program engages participants in developing and implementing their capabilities as managers and leaders. Visit the AIM website for more information.
Recent articles
Tags
FREE eBOOK OFFER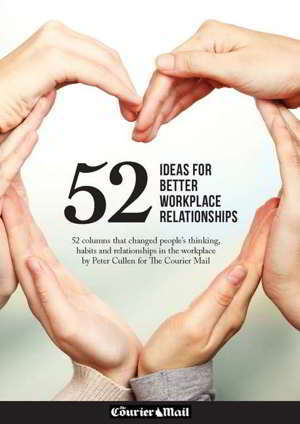 REGISTER your details to receive a copy of my eBook, "52 Ideas for Better Workplace Relationships"